With Halloween being over, and the holidays right around the corner, Starbucks is switching over their menu to their new holiday drinks. Still, before they are forgotten, it is time to talk about the fall drinks that were released for the 2023 season. Starbucks lovers like myself take this time of year very seriously. It is a fun time to try new drinks and see if they are worth the hype and price they are. I am here today to tell you about the glasses themselves and how people around Hauppauge High School felt about them. 
The 2023 Selection
Pumpkin Spice Latte – This drink is an iconic symbol of autumn to the Starbucks Community. With the blend of espresso, steamed milk, and a pleasant combination of pumpkin, cinnamon, nutmeg, and cloves spices, it's no wonder that this drink is so many people go to drink every year. Many people believe that this drink is essential during the fall time because of its perfect balance of sweetness and warmth that surely brings comfort during the time that we welcome back the cold breezes and sweatshirts. 

Iced Pumpkin Creme Chai Tea Latte – This drink is a perfect drink for tea lovers during the fall season. This drink is a rich and creamy iced chai tea latte. With a blend of black tea infused with cinnamon, other warming spices, and milk, topped with Starbucks sweet pumpkin cream cold foam, and a dusting of pumpkin spice topping. A tea lover or not, this drink gives you a perfect amount of fall in every sip. 

Pumpkin Spice Cold Brew – This drink is one of the simpler drinks of the fall drinks. This drink consists of Starbucks Cold Brew sweetened with vanilla syrup and topped with pumpkin cream cold foam and a dusting of pumpkin-spice topping. If you are looking for a drink that is a simple coffee but with a hint of fall then this drink is perfect for you.

Iced Apple Crisp Oatmilk Shaken Espresso – This drink is one of the fancier drinks you can order at Starbucks. This drink is Starbucks Blonde espresso combined with notes of apple, cinnamon, and brown sugar shaken together to blend the flavors and topped with oat milk for a perfectly balanced flavor and energizing fall treat. If you are a fan of any of the other shaken espresso drinks at Starbucks, this drink could be your favorite drink. 
Student Opinions 
When it comes to Starbucks drinks, everyone has their own opinions on whether or not a drink deserves to be on the menu. I went around the school asking which drink they had tried if they liked it or not and why. In total, I got an overwhelming amount of people telling me that they got the iced pumpkin creme chai tea latte. Out of the 12 people that I asked, 10 of them said they loved the iced pumpkin creme chai tea latte and they would rate it a tea. Riley Minor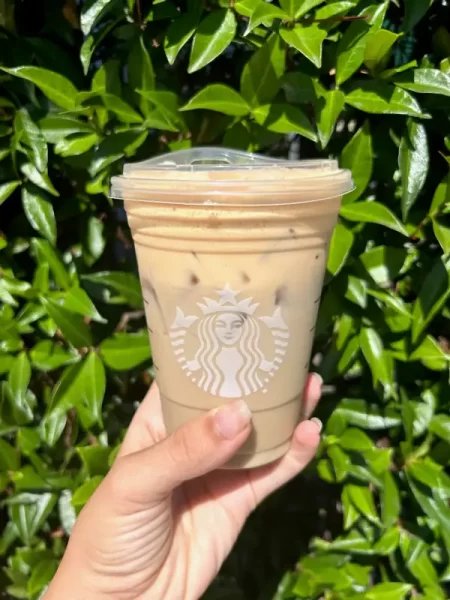 stated, "If I had unlimited money, I would buy 3 of them a day." On the other hand, when it came to what people didn't like, 7 out of the 12 people I interviewed said they strongly disliked the iced apple crisp oat milk shaken expresso. Victoria Rivera stated, "It didn't have a lot of flavor of apple, it was just boring." The seasonal flavors are always interesting to try, but it is sometimes a risk when it comes to the newer flavors, is it fall without trying to try all the Starbucks flavors? 
My Opinion
I was lucky enough to be able to try all the flavors of the fall drink list. My personal favorite was the iced pumpkin creme chai tea latte. This drink tasted amazing every single time I got it and it made me feel as if I was in an episode of Gilmore Girls during the fall. The recipe is a perfect mix of pumpkin to creme flavors. I am not the biggest fan of tea, but this drink was to die for. Next fall season make sure you make your way to Starbucks and get yourself a cup!
     Starbucks lover or not, it is always important to try new things in life and what is better than drinking a nice pumpkin or apple drink when the leaves are following and turning red, green, and yellow? Keep yourself up to date with new flavors by following the Starbucks instagram or downloading the Starbucks app.