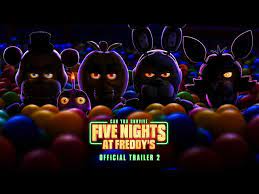 The Chilling Atmosphere
The "Friday Nights at Freddy's" movie successfully captures the eerie atmosphere that made the game series a horror sensation. From the dimly lit pizzeria to the unsettling animatronic characters, the film creates an intense ambiance that keeps you on the edge of your seat. The cinematography and sound design contribute significantly to building tension, and fans of the game will appreciate the attention to detail in bringing the terrifying animatronics to life on the big screen.
A Deep Dive into the Lore
One of the highlights of the movie is its exploration of the intricate lore behind the "Friday Nights at Freddy's" universe. The film delves into the mysterious and dark history of Freddy Fazbear's Pizza, uncovering long-buried secrets and providing answers to some of the series' enigmatic questions. This added layer of storytelling depth adds a compelling dimension to the movie and appeals to both fans of the game series and newcomers to the franchise
Jump Scares and Suspense
The movie delivers on its promise of jump scares and suspense. It skillfully builds tension throughout the narrative, leading to heart-pounding moments that will have you gripping your seat. The animatronics' unpredictability and the characters' struggle for survival keep the audience engaged, making it a thrilling and suspenseful experience.
Personal Opinion: A Thrilling Adaptation
As a fan of the "Friday Nights at Freddy's" game series, I was highly satisfied with the movie adaptation. It faithfully captures the essence of the games and expands on the lore in a way that is both engaging and satisfying. The jump scares are well-executed, and the film successfully delivers the spine-tingling moments that fans of the series crave. Whether you're a long-time fan or someone new to the franchise, the "Friday Nights at Freddy's" movie is a thrilling and enjoyable horror experience.
Conclusion: A Must-See for Horror Enthusiasts
In conclusion, the "Friday Nights at Freddy's" movie is a remarkable adaptation of the beloved game series. It excels in creating a chilling atmosphere, exploring the lore, and delivering jump scares and suspense. If you're a fan of horror and appreciate a well-crafted, suspenseful storyline, this movie is a must-see. It pays homage to the source material while also providing a fresh take on the iconic characters and settings. "Friday Nights at Freddy's" offers an immersive and terrifying cinematic experience that will leave you eagerly anticipating the next installment.