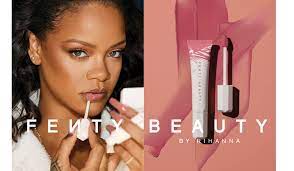 What is Fenty Beauty?
Fenty Beauty is a makeup brand created by pop and rhythm blues singer Rihanna. Rihanna sheds light on inclusivity in her makeup brand and creates reliable products that will give your makeup both a glamorous and natural finish. Rihanna puts emphasis on creating Fenty
Beauty "so that women everywhere would be included," Her products are buildable, last all day, and affordable compared to their quality. All of Rihanna's makeup products are known for their extensive shade range which many makeup companies choose to neglect when creating products. There is a shade in every foundation, color in every blush, and tint in every lipstick for you regardless of your race. Rihanna's mission statements and values for her makeup brand include the phrase,  "Makeup is there for you to have fun with." She inspires millions of women and highlightsthat makeup is something that highlights your beauty and you should never be constricted on how you enjoy doing or using makeup.
How is the Lip Gloss?
The Fenty Beauty lip gloss is a tried and true product for any woman regardless of her size, age, or race. Applying the lip gloss once will last you the whole day and hydrate your lips even after it has worn off. Aside from this, its beautiful finish is one that I consistently get compliments on every time I wear it. The Fenty beauty lip gloss comes in 3 variations fenty 'Heat', cream, and Lip luminizer. The lip luminizer, which is my personal favorite, gives a lustrous glow to your makeup and completes any makeup look whether it be a full face or a natural look. The heat version of this lip gloss is a lip plumper and gives a beautiful finish as well. The cream combines the color of lipstick with the beautiful glossy finish of lip gloss all in one product. With as many variations as there are to this beautiful gloss, there is a color and model for everyone! I would highly recommend this lipgloss giving it a perfect 10/10. I have tried hundreds of other lip gloss products from hundreds of both luxury and drugstore brands and nothing compares!!
Where and how to buy
The Fenty Beauty gloss can be purchased at either Sephora or Ulta. It is available both online or in-store depending on what you would like to do! The lip luminizer is $21, the heat gloss is $26, and the cream gloss is $22. If you purchase right now at Sephora there is a 20% off sale as well as a 3-pack of the lip gloss including all 3 variations available for $43 as opposed to its retail value of $69! There is a limited edition shade included in this holiday set called Pink Dragonfly which I have already purchased and love. This gift set is available at both Ulta and Sephora and would be the perfect gift for any loved one whether they frequently use makeup or not. Although the price is fairly expensive, many luxury brands will not give you the quality and amount of product in this lip gloss for double the price. Don't let the price set you back from purchasing this gorgeous lip gloss!