Disney vs. DeSantis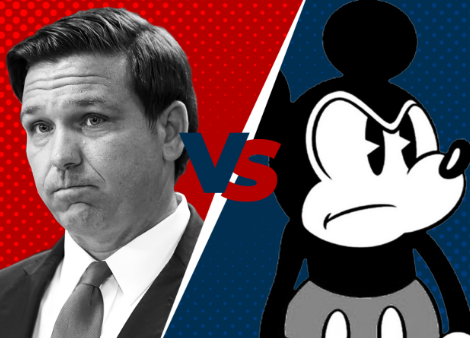 Florida governor Ron DeSantis has been the subject of much debate regarding the recent enaction of education bills, dubbed "Don't Say Gay" laws by critics. In spite of its ramifications on what books are allowed on classroom shelves, the first large-scale fiscal effect on Florida state in response to the bill occurred recently with Disney speaking out against the legislature. 
     Disney World, the famous theme park which makes its home in Florida, holds special zoning privileges. Essentially, Disney World operates under the Reedy Creek Improvement District, run by 5 area supervisors appointed by Disney who make decisions regarding improvements and expansions that would usually have to go through a town hall or city council board. In February, however, Ron DeSantis signed a bill creating a state-appointed board to oversee Disney's management, removing their previously held ability to operate autonomously. DeSantis stated that this action would "bring the corporate kingdom to an end." Republican DeSantis' signed the bill in an attempt to fight against what he calls the left's "woke indoctrination," as Disney World had been mandating COVID-19 vaccinations and face coverings for employees and closed the Splash Mountain ride in response to criticism of its "stereotypical racist tropes." DeSantis claimed that the company had "crossed a line" after CEO Bob Iger criticized the "Don't Say Gay" bill and supported its repeal.
     On April 26, however, Disney announced it was suing Ron DeSantis, claiming that the removal of the company's liberties was unconstitutional. Disney also canceled the building of an office structure in Florida, which was projected to create 2,000 jobs within the state. 
      The actions of both DeSantis and Disney have caused a large shake-up in both Democratic and Republican circles. As a Republican, most voters expected DeSantis to be pro-business and allow the independent operation of private companies, but his decision to prevent Disney World from controlling its own affairs contradicts that ideology. Additionally, Republican voters value economic improvement through support of the free market, but since DeSantis' actions have cost Florida a new development and the tax flow, jobs, tourism, and general revenue, he has lost much support from his party's voters in the state. Disney, on the other hand, has shocked many liberals across the country. The company has faced criticism over the past several years for including minimal or ambiguous gay representation in their films so that the scenes/characters could be cut out and sold in China, where extreme censorship policies do not allow these films to be shown. Many Democrats argue that if the company truly supported the LGBT community, they would be taking more decisive action against these policies and include better representation. Iger's criticism of DeSantis and Disney's lawsuit against him, however, shows support for the community and creates significant consequences for unsupportive administrations.
       The Disney lawsuit against DeSantis has created subtle but significant changes in the political sphere, and it will be seen how the case impact Ron DeSantis' projected presidential race.