Teacher Appreciation – Mrs. Kaminski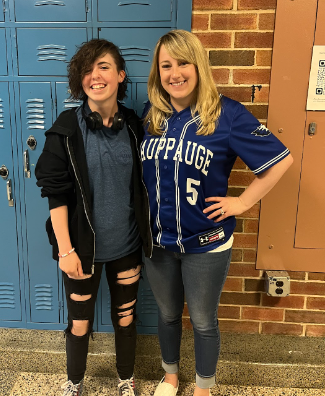 Mrs. Kaminski has been a teacher in Hauppauge for nine years and has taught many different English classes and electives. This year she is teaching pre-ap English, English eleven, and journalism. I have had the pleasure of being in at least one of Mrs. Kaminski's classes every year so far. 
Teaching Method 
Mrs. Kaminski is a phenomenal teacher whose teaching methods make sure learning is fun and everyone is involved. She tries to play to each individual student's strengths and interests, making each of her classes fun to be in and not tedious. Mrs Kaminski is also the director of the senior class, so if you are a class of 2023 senior make sure you stop in to say hi!
Impact
Mrs Kaminski has made a lasting impact on me personally as well as many other students. She inspires her students to be their best selves through her teaching. She has also heavily influenced the way I write. Writing is something that used to bore me but now thanks to Mrs Kaminski, I have learned and grown to view writing as less of something I have to do, and more as something I can have fun doing. 
Overall Mrs Kaminski is an amazing teacher, who will forever have an impact on me. She helped shape me as a person today and has inspired me to pursue a teaching career in the future, so I can inspire and help kids, just like she did for me. Thank you Mrs. Kaminski for everything you have done for me and other students like me.