Teacher Appreciation Week – Mrs. Maer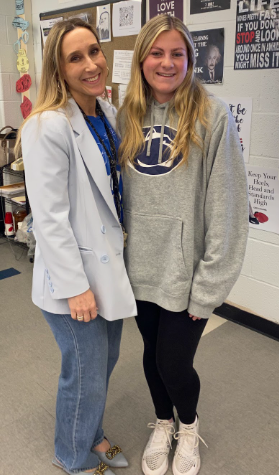 Happy teacher appreciation week to the teaching staff at Hauppauge High School! Thank you for coming in every week teaching us and growing our education so we can be successful in the future. Teachers are the people who work tirelessly to help us learn and grow as individuals, and we owe them a lot for that. Teachers shape the mind of the next generation, and without them, we wouldn't be able to acquire the knowledge and skills we need in life. They are unsung heroes. 
One special teacher I would like to appreciate is Mrs. Maer. Mrs. Maer, for some who don't know her, is a part of the school's math department. Mrs. Maer has taught geometry, and algebra 2 and is currently teaching Pre-Calculus and IB SL 1. Mrs. Maer has been making a difference in teaching for 22 years! Prior to becoming a teacher at Hauppauge, she actually attended Hauppauge high school. She now lives in Hauppauge and has 2 kids, Lucas and Kaylee. Lucas is in high school and Kaylee is in 7th grade.  Mrs. Maer went to Stony Brook University and always had a great passion for mathematics growing up. She always says that she loves being challenged and she likes that in math there is always a definitive answer when solving complex equations, and her favorite kind of problems are algebra-based.  Mrs. Maer is the kind of teacher you connect with after the first day of school. She always has visitors from past years and there is not one student that doesn't love her. Students this year linger after class, talking to her about practically anything. Mrs. Maer is the type of teacher that goes all out no matter what. For spirit week,  Mrs. Maer is the best dressed of them all and isn't afraid to have fun while teaching. This year we had a class advent calendar and played games involving math with treats like Starbucks and candy. Mrs. Maer has a great connection with her students through her interactive teaching style as well, making sure everyone in the class is motivated and comfortable. Comfortability is a big part of the way she approaches her method of teaching. If she sees a student struggling, she supports them with extra help, or if they are having a rough week even moving a test. I remember when some of my friends were stressed out about an AP Physics test the same day we had a math test, and she decided to move the math test knowing how much we complain about physics to her.  She also always wants everyone to succeed but also be challenged in math. The main thing that keeps her going is seeing kids who didn't like math at first, slowly start to thrive in the class.  Mrs. Maer has a positive attitude every day when I walk into the classroom. This is because she is so passionate about math that she tries and reflects her mood on the students, and it works every time.  
Mrs. Maer is the best-dressed, kindest, and considerate teacher I have ever met. She always pushes me to be the best version of myself in math I can possibly be. She can read a person like a book and she knows how I sometimes get anxious or stressed out over my grades and math (not the biggest math person… more of a writer). At the end of each quarter, Mrs. Maer prints up your quarter averages and talks with you one on one about how she feels you are doing and gives you a support system. Even when I think I am not the strongest math student, she provides unconditional support by having practice days for challenging lessons and squeezing in time for extra help. 
In closing, Mrs. Maer is a great teacher and deserves appreciation all year round. Mrs. Maer inspires others and pushes people to places they never thought they would be. Her glass-half-full mentality rubs off onto people around her and I am so grateful I was able to have her as my teacher this year. If you are a student who has the chance to get her as your math teacher, don't miss out! Thank you for everything you do for your students!