Teacher Appreciation Week- Ms. Torres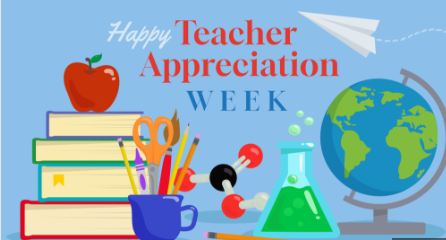 Teacher Appreciation Week is a national holiday celebrated in the United States in the first full week of May. For my teacher appreciation article, I choose my Spanish teacher Senorita Torres. Senorita Torres teaches all levels of Spanish within the High School. She is a great teacher and clearly has a lot of experience and knows what she's talking about. She makes class super fun by not just standing there and teaching but instead giving us the opportunity to work in groups which helps s all collaborate and learn as a team. My favorite memory in her class was the day before the break when she taught the whole class how to salsa dance and we got to get up and dance. 
Senorita Torres has a pretty laid-back teaching method; she usually lets us work in pairs or review together after she teaches the new unit to the class. We also do work alone so that we can make sure we know how to do the unit ourselves so that we can succeed on the test. I usually do well on her tests/quizzes because I feel she well prepares us. Another thing I like about her teaching is that we don't get very much homework but when we do it's reasonable and only takes between 10-15 minutes. I really enjoy her teaching method because it forces us to interact with the other students and when we do it becomes a super fun way of learning new topics. I have made new friends in this class because of her ways of teaching and I'm so thankful that I was able to. 
Senora Torres has influenced me in such a positive way. I enjoy going to her class every day and although Spanish is not my favorite thing to learn she makes it worth it. Not only is she a good teacher but she is also a great person too. She is the type of teacher you say hi to in the hallway and she makes conversation with you. She cares for her students and always has their best interest at heart and that is why she is so good at her job. I will always remember her class and I'm thankful I got to have such a great year in Spanish with her.