Teacher Appreciation – Mr. Schaeffler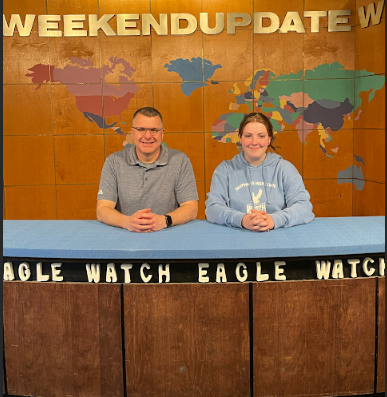 Mr. Schaeffler has been teaching for 29 years and at Hauppauge for 21 years. He has been married to his wife for 27 years in June and has 3 children. In his free time, Mr. Schaeffler enjoys playing hockey, hiking with his dogs Penny and Taco, biking(often for charities) paddleboarding, and working on home improvement projects.
His career started when he took a production class in high school and found that he loved television production. It was decided that he wanted to make it into a career. He graduated with a communications major at the New York Institute of Technology. He says "I never planned to be a teacher and it just kinda happened". After graduating college Schaeffler began teaching for the TV production program at Boces. That led him to teach at high schools. Schaeffler plays a big role in the Hauppauge community. He spearheads the Hauppauge Eagle Watch which our community thoroughly enjoys. He also produces the morning announcements for the Hauppauge High School in his broadcasting class. In addition to these, every summer Mr. Schaeffler works at a children's camp and helps produce daily video content there. Aside from his many awesome classes he also represents the Hauppauge Teachers Association.
Schaeffler's teaching methods vary based on his classes. I am a part of the Eagle Watch Broadcasting class and Mr. Schaeffler allows us to pick, film, and edit our own stories. He lets us explore our creative side and produce amazing shows each month. All of the schools in Hauppauge love to see them, especially as a fun class activity before the break. In the TV production classes, Mr. Schaeffler gives us fun and creative assignments to help us learn how to use the software needed for more difficult classes he offers like IB film. His classroom makes a good space to make new friends and learn new skills on computers and in front of the camera.
I learned how to effectively public speak and be more comfortable talking in front of people in TV production 1 and 2. They are amazing classes that provide a good break throughout a stressful school day. I highly recommend his classes if you are looking for a creative outlet in a day full of hard classes. Mr. Schaeffler and his classes made me a much better student. I've become well-spoken, procrastinate less and have more creative ideas. Schaeffler is very personable and that makes his classes even more fun. His quotable sense of humor also adds to his great classroom atmosphere. After finishing a show he will often say "Great job guys, let's record this time". It gets incredibly old incredibly fast but somehow it still stays fun. He also constantly says "Come one people we've got a show to produce". Past classes have gotten it printed onto t-shirts that Schaeffler has hanging in his classroom. He does a very good job of creating an open and creative classroom that students love. Mr. Schaeffler is a wonderful teacher and even if it's not said often his students greatly appreciate him!
What do his colleagues and students have to say about him?
Mr. Foster says that "he's super dedicated to his students and he is very personable to earth guy and makes great connections to his students".
Mrs. Seale says " Mr. Schaeffler's greatest quality is his sense of loyalty and willingness to help others in any capacity whether it be pursuing opportunities to showcase his student's work, supporting the teachers in the high school as a long-standing building rep, and even engaging in multiple fundraising campaigns for causes near and dear to his heart. Hauppauge High School is better for having him not only as a teacher but as a leader".
Mrs. Clark and Mrs. Coppola stated "He is an asset to our department, very to the point and makes us laugh, doesn't like confetti on his keyboard, and is the king of practical jokes"
Dom Moccia, "Class with Schaeffler is like a big family, he always makes an effort to bring all of his students together to create a sense of community."
Rayn Raju stated, "Mr.Schaeffler is a very kindhearted man, who always cares for his students with his whole heart and is very enthusiastic about all of our work. His class is my favorite class to go to each day, and I'm so grateful to have him as a teacher all 4 years of high school".