The Blobby Seal Pillow by Miguel Cuevas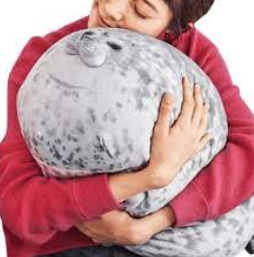 I recently purchased the Blobby Seal pillow to give as a Christmas present, but I couldn't bring myself to do it. You wouldn't expect a seal pillow to have so many uses. I bought this seal pillow solely for my friend as a Christmas gift. My friend loves the snow and skiing so I thought a seal would be the perfect animal that resembles him. In the end, I never gave it to him because he was absent the one day I could give it to him, but I don't regret keeping it. And so, I am now a proud owner of this chubby blob seal pillow.
      I recently took this seal with me to France on vacation. It is the perfect size to fit in your backpack to carry with you wherever you go. I'm not much of a fan of neck pillows for long airplane rides, and regular pillows get in the way when you're traveling in small spaces ,but this seal pillow did the same job just as well while looking adorable. Not only did it score a 10/10 on the comfort meter, but it also became a great conversation starter every time I brought it out. In my hotel room, my roommate would always try to steal it because of how comfortable and adorable it was. This pillow is made of high-quality PP cotton filling and skin-friendly fabrics. It keeps its shape no matter how much pressure you put on it and doesn't cause acne breakouts. It's also very durable withstanding many punches and kicks across my room and the rough travel from inside my luggage throughout the cobblestone streets of France. Other than serving as a traditional pillow for your head, it could be used as decoration for your room or as a perfect birthday gift for kids. Some people could even use it as a venting mechanism. Some people are not comfortable enough talking to a person about their problems, but with the seal pillow, everything is confidential. 
     Don't believe me? There are thousands of reviews backing it up. One buyer says, "This guy is more adorable in person than in the photos." Another person says, "This little cute and cuddly little darling will make you feel  4 years old again." Thousands of people agree that this pillow is one of the best creations to ever exist. There are a few Debbie-downers who weren't satisfied with their purchase. Some say that the seal is defective. They say that it is smaller than expected or does not have enough stuffing. 
      This seal comes in three sizes. Currently the small costs $12, the medium costs $20, and the large costs $27. Most buyers chose the small option and complain that it is too expensive but you could easily spend the same amount at McDonald's in a second. I would definitely recommend this pillow to anyone and everyone. Your new best friend could be at your doorstep within a few days, or a couple of hours if you choose same-day delivery.