Product Review: Liquid Cooler by Michael Chiquitucto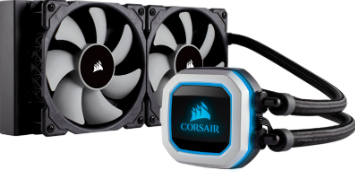 Do you ever have an issue with your computer overheating causing the poor performance? Well, look no further because liquid coolers are the new cooling system of the future. products such as Corsair's Hydro series are able to keep the internal processor 25 degrees cooler than a regular stock cooler. While this all seems like an upgrade from traditional coolers, there are some downsides. For starters, it comes in at a costly $170 dollars which is a huge contrast from the typical free cooler that comes with every processing unit. While the price point might be an issue, there is a level of security knowing that this product is rated a best seller for computer cooling systems. Not only that, investing the money in this cooler could potentially save you more money on a new processor. Typically, a normal fan will leave a processor at higher temperatures; this has the potential to slowly start to degrade and damage the processor. Not only will it damage the processor, but it will hinder performance while running any program on your computer. Processors range from around $200-$700 dollars which are not money that you would want to be spending when you could buy a liquid cooler to extend the life span. The way liquid coolers work compared to a traditional fan cooler is, instead of heat building up inside of your computer case and being ventilated out, a water block is attached to the processor which runs cool water over the water block transferring the heat to the water. The water is then moved to a fan which has radiators that help expose the hot water to air. This process helps cool down the water and ventilate the heat. 
You can typically find water coolers at Best Buy, Microcenters, or an electronics section at Target or Walmart. You can also find them online on Newegg, Amazon, or Corsair's official website. While almost everything about water coolers is positive there are some downsides rather than opting for a more traditional fan cooler. First, if one of the pipes that connect the water to the fan breaks, it can cause serious damage to the computer from the water coming in contact with the motherboard and graphics card. Another point made is that liquid cooling fans are more expensive and harder to install. While this can be the case, the chance of the pipes breaking is very low unless you are handling/moving your computer frequently. In conclusion, I believe that Corsair's Hydro series coolers are worth the purchase even though they are pricey and can sometimes break. You can find yourself saving more money and getting better performance by spending the money to keep your computer cooler.  
Written by Michael Chiquitucto