Make Everyday Feel Like Friday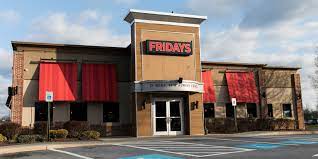 Friday was founded on March 15, 1965, (which fell on a Monday) by Alan Stillman; however, his intentions weren't what you'd think. He opened TGI Fridays as a way to meet the hot flight attendants and supermodels who lived in the Upper East Side of New York. Friday's was created as a bar before it was a restaurant. I've been going to TGI Fridays for over a decade now, and I didn't know this until now. I can remember being around seven years old and asking the waiter for the wifi password while I waited for my food. It's crazy to think that ten years later, I'm still the kid on his phone waiting for the food to arrive. I like to go to Fridays after big events such as concerts, graduations, and birthdays, but sometimes I go just because it's so good. I love the atmosphere inside Fridays because it's casual, but with the yellow/orange lighting, it looks like a fancy restaurant. There are many seating options from small tables that fit up to 2-4 people, booths for up to 4 people, bar seating, and large booths for 8-10 people. There are TVs on almost every corner that aren't too loud where it's obnoxious but loud enough to hear if you guide your attention towards it. Service is pretty quick in my opinion; they come to take your drink orders almost instantly and if you already know what you want, you can order there and then.
Normally you don't get anything on the table before your food arrives, but you could order appetizers (the mozzarella sticks are to die for). The appetizers usually arrive within 5-10 minutes, and the main dishes within 15-20 minutes. The waiters are extremely nice and have never messed up any of my orders, but, to be fair, my order is very simple- it's just chicken fingers and fries with macaroni and cheese instead of coleslaw. The fries here are unique; they aren't like your everyday fast food fries like Mcdonald's or Burger King that are either doused in salt or not enough or too squishy or hard. Friday's fries have just enough salt, added pepper, and other spices to make them delicious. I normally like ketchup or honey mustard to eat my fries, but here I could do without it. My dad usually orders a burger with mashed potatoes and my mom either a steak, ribs, or chicken wings. My brother orders the same thing I do except from the kids' menu instead of the regular one. The kids' menu has a good amount of choices and a complimentary drawing sheet with puzzles and crosswords. The four entrees and an appetizer cost around $80. Each entree costs anywhere between $15-$22.
If it wasn't obvious, I would definitely return, and I also recommend it to anyone who wants to try a new restaurant. I always want to order something new because everything on the menu looks ravishing, but I end up getting the same thing. However, my parents tend to try new options, so I just have a taste of theirs. It's fairly close by for a good restaurant, being no more than a 5-minute drive in Hauppauge. There are also a good amount of locations throughout Long Island. I would give this restaurant 4 out of 5 stars. The reason I give this score is that during holidays and big sports events/games, Fridays fill up quickly and a wait can be 10-20 minutes long, and, during this time, service may slow down. In general, I would still recommend TGI Fridays to anyone looking for something new.