Dynasty, Not Renewed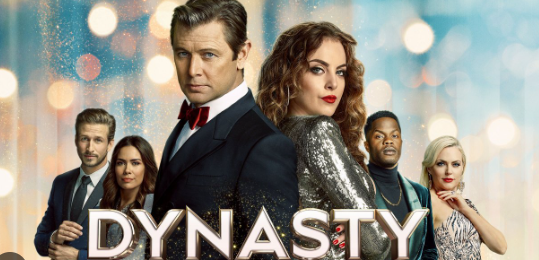 Overview 
Dynasty has 5 seasons. They started in 2017 and their last season was in 2022. Sadly Dynasty came to an end due to the fact that CW network was sold and many shows were not renewed which meant Dynasty was one of them. Dynasty's overview: Fallon Carrington, the heiress, and star of the series Dynasty is upset to learn that her millionaire father Blake is engaged to Cristal, a competing family employee. Fallon joins forces with Blake's adversary and former coworker Jeff Colby and goes it alone after her schemes to break up the pair backfire and cost her a promotion. The entrance of Cristal's scheming nephew Sam, who develops a romantic interest in Fallon's errant brother Steven, poses a threat to reveal her murky history. In the wake of Cristal's allegedly murderous ex-boyfriend Matthew, the Carringtons unite, but Promotional apparent peace at the estate is short-lived. While the antagonism between Fallon and Cristal lessens, Blake's deceptions put him at odds with Cristal and his kids. Michael starts dating someone else because he is fed up with waiting for Fallon to take him seriously. This only makes Fallon's feelings for him grow stronger and pushes her into Jeff's arms. Cristal's past resurfaces in the shape of her sister Iris and Sam's father, Alejandro, and Matthew's pregnant widow Claudia recuperates at the home with a secret goal. Because of Sam's criminal tendencies and Steven's unstable ex-boyfriend, Ted, Sam, and Steven's on-again, off-again relationship is complex. It is revealed that Jeff's alliance with Fallon is an attempt by him to get revenge on the Carrington family for what Blake did to Jeff's father Cesil. Fallon enlists Michael and Cristal to assist her in turning the tables on the Colbys. She is successful in neutralizing Jeff and obtaining a cut of the action.
Production 
Based on the same-named 1980s television series, Dynasty is an American soap opera that airs at prime time. Elizabeth Gillies plays Fallon Carrington in the new series, which was created by Sallie Patrick, Josh Schwartz, and Stephanie Savage. Grant Show portrays Fallon's father, Blake Carrington. On October 11, 2017, Dynasty debuted on The CW in the United States and, a day later, on Netflix overseas.
Cast 
Skylar Morgan Jones and Marisa Hampton play younger versions of Fallon Carrington, an Atlanta entrepreneur, and heiress who is the daughter of billionaire Blake Carrington and his first wife, Alexis; Fallon's new stepmother, Cristal Flores Carrington (also known as Celia Machado), is played by Nathalie Kelley. Steven Carrington, Fallon's gay environmentalist brother, is played by James Mackay. Younger versions of Steven are portrayed by Paul Luke Bonenfant and Nicholas Cords. Michael Culhane, Fallon's former lover, is portrayed by Robert Christopher Riley. Jeff Colby, Fallon's young business rival, is portrayed by Sam Adego Dale, and Alan Dale as Joseph Anders, the Carrington majordomo. Grant Show as Blake Carrington, billionaire CEO of Carrington Atlantic.
Acting and Script
The acting in this show was phenomenal. Everyone in the show knew how to use their emotions and sometimes you forgot that they were acting. My favorite person was Elizabeth Gillies. She played Fallon Carrignton and she showed a lot of emotions and her facial expressions were always on point. One of the best plot twists towards the end was when steven finally comes back after not being in many seasons. Every Time I watched the show I always had Steven in the back of my head because the way he disappeared was a cliffhanger.