Deadly and Tragic "Halloween Crush" in South Korea
Did you ever think a harmless night of fun trick or treating dressed in your favorite costume would end up being a bloody, dead mess..? Neither did hundreds of South Korean Civilians on Saturday before Halloween.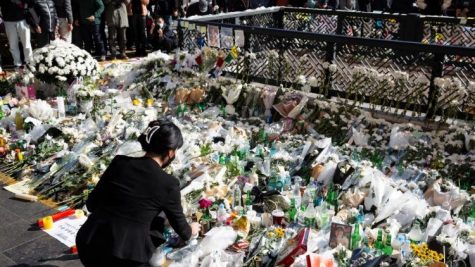 What Happened?
     156 people died in Seoul on the night of Halloween. They were gathered for a Halloween celebration in the lively center of the South Korean capital. On the Saturday before Halloween. the Racine to be around 150 people killed in a crash in a crowd stuck on the narrow roadway. As many as 100,000 people were in the. This area of Korea as said by police officers is always popular for its nightlife. New York Times also said that the holiday had been in neighborhood favorite before being interrupted by coronavirus restrictions imposed on the city 2 years ago, and young people flock to parties on Saturday nights. By the time Sunday morning came, there was a remanence of dead bodies and blood on the ground. Foreigners died and natives and many were still left in our costumes the Sunday morning and no one helps them. A woman said, "There were people beneath me and people falling on top of me. I could hardly breathe. We shouted and screamed for help, but the music was so loud in our alley are shouts were drowned".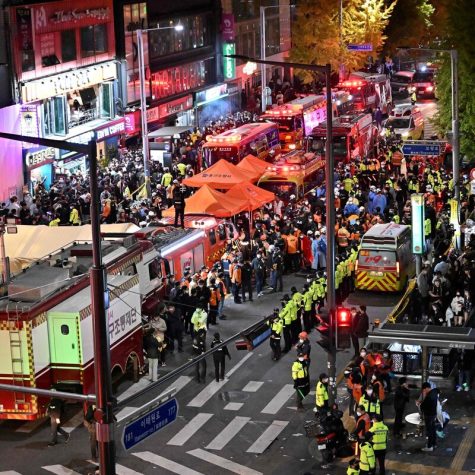 Why wasn't there some sort of outside force intervening?  
The crash was said to begin on a narrow roadway right outside a subway station in the capital. The party was already getting so crowded on the streets, Subways, and everywhere around the capital. Around 11 pm, officials began sending alerts urging people to avoid the capital, Itaewon.  Some witnesses say that the police came and attempted to separate people but there was no use in trying when there are people wall to wall. Officials said that many of the people killed went into cardiac arrest. Which is seen as inadequate; many believed it was just from being trampled. In addition to this, there were more than 800 emergency workers and police officers all around the capital in attempts to help the injured, but there was no use once again since the crowd surge was huge.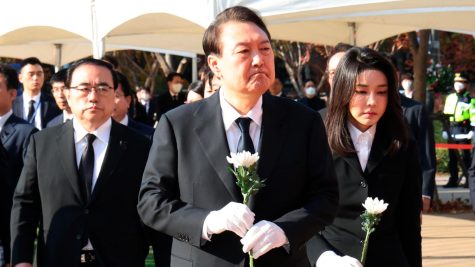 Aftermath
Churches across South Korea held mass for the more than 300 dead or injured in the Crush from Halloween. The victims are mostly young people and many were crushed or suffocated in the crowd. Others fell and were trampled. Many of the witnesses that were in the crowd say that there was really no police enforcement or crowd control, the opposite of what the police said. All in all, the disaster now is South Korea's worst incident since the Sewol ferry sank in 2014, killing more than 300 people. Civilians are placing chrysanthemums around the city and mourning the loss of loved ones. President Yoon Suk-yeol declared a period of national mourning for the families and friends. Many however still want more answers. They want better answers as to why this problem wasn't avoided and or prevented.
Sources: 
https://www.nytimes.com/2022/10/29/world/asia/seoul-south-korea-dead.html
https://www.vaticannews.va/en/church/news/2022-11/catholic-church-in-south-korea-remembers-victims-of-seoul-crush.html
https://asia.nikkei.com/Politics/South-Korea-Halloween-crush-tests-Yoon-as-public-demands-answers