NASCAR Driver Pulls a Very Risky Stunt to Secure a Spot in NASCAR'S Playoff Series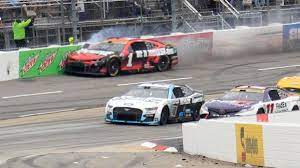 What happened?
Ross Chastain pulled off a very dangerous and never before seen move in a NASCAR race on October 30.
He realized he needed to get in front of 2 more cars to make it to the championship, so he decided to ride into the curve of the wall following the wall so that he would not have to brake to execute the turn. His plan worked and he ended up passing a number of cars.
Why did he do it?
In an interview for the Washington Post Ross stated, "I had nothing to lose and everything to gain." His dramatic and well-executed turn was based on a video game he used to play as a child, called NASCAR 2005.
He states that it wasn't too often he played these video games as a kid but he did play NASCAR when he got the chance. Ross also explained that he wasn't sure that this maneuver would even work. He did have doubts in his mind while performing. Ross is very happy that the turn worked well because if it hadn't he felt he would look stupid.
Will it remain a legal move?
This new move has gathered some hate and some love from fans across the globe. Many people, NASCAR drivers and fans alike are unsure if Ross's move should be legal within these race competitions. O'Donnell states, "At this point in looking at it, it was a move within the bounds of the rule book". The move will be legal for now but there is always a chance it may be banned from here on out. Which would play in favor of most other NASCAR drivers.