Mystery Surrounds Elnaz Rekabi After She Violates Iranian Hijab Mandate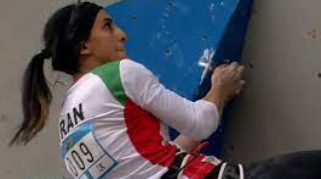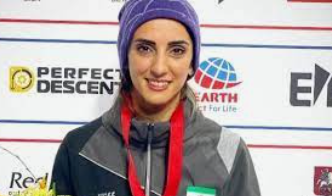 Elnaz Rekabi, 2021 World Climbing Champion bronze medalist, with two bronze and a silver medal from the Asian Climbing Championships, went no contact on Monday, October 17, after competing at the 2022 IFSC Asian Climbing Championships without wearing the headscarf required for Iranian female athletes. This action comes only weeks after the arrest, beating, and murder of Masha Amini, a 22-year-old woman arrested by the Guidance Patrol for violating Iran's "mandatory hijab" law. Her death has resulted in extreme uproar across the country, including actions as simple as taking off one's hijab in solidarity to large mass protests against modesty laws. Many Iranians saw Rekabi's competing without a hijab as an act of public protest, and greeted her with a "hero's welcome," calling her "Elnaz the Champion."
       Rekabi did not return home from the competition, which took place on October 16, until October 19. As of now, it is unknown where she was during this time and who she was in contact with. However, soon after she was reported missing on October 18, Rekabi made an Instagram posting claiming her hijab fell off "accidentally," as she was put in the event rather last minute and was in a rush. She reiterated this statement in an interview with the Islamic Republic News Agency on October 19 after returning to Tehran.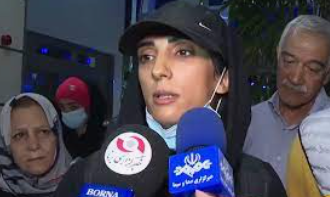 It should be noted, however, that several similar statements have been made by other Iranian athletes in the past, especially after they receive public support. An unnamed, but "informed," source told BBC Persia that met with the Iranian Sports Minister, Hamid Sajjadi, in plain clothes, covering her hair with a baseball cap and hoodie on October 20. The source claims that she was detained by plainclothes officers until she met with the Minister. Authorities have stated that Rekabi is simply staying home because she is in need of rest, but the anonymous source claims that she is being held under house arrest. 
     Much is unknown about Elnaz Rekabi's current state and her motivations for removing her hijab. However, in the same Instagram post she claims the incident was an accident, she thanks her fans for supporting her and being there for her. And no matter her purpose or the results, Rekabi has certainly gained a large community of supporters.