Product Review: K-Café Smart Single-Serve Coffee Brewer
     Do you always drive to Starbucks or Dunkin in the morning to get your morning coffee? If you do, that cost adds up significantly. To offset that cost each morning, consider investing in the Keurig K-Café Single-Serve Coffee Brewer. This coffee brewer is no normal coffee maker, this brewer has many features that can make your coffee in the morning feel magical.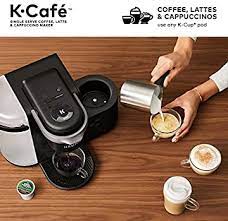 Features:
     The K-Café Smart Single-Serve Coffee Brewer has many features that make your coffee even better. It comes with BrewID which is a feature that recognizes the K-Pod that you are brewing that gives you more customization tailored to that flavor. One other customization you can make to your coffee is built right into the machine; the milk frother! This is perfect for late-morning lattes and cappuccinos. Another feature to make your life easier is Barista Mode, this is a setting on your machine that gives you step-by-step instructions to making craft coffees with ease. One other prominent feature of this is actually the Smart Delivery that automatically sends you more K-Pods when you are running low. This helps to not have to worry about not having any coffee in the morning.
Pros and Cons:
This coffee maker will be a great investment because of the simple convenience that it gives you. By having your coffee right in your house, you don't even have to drive somewhere to get your energy. Another pro is the money you will be saving. The coffee certainly does not disappoint with your store-brewed coffee as it may taste even better due to its freshness. However, some con of this coffee brewer is the simple cost of it. The machine costs $249.99 and that is a rather serious commitment. Another feature people may not like is the single-serve K-Pods. The one-time use of the pods and constantly having to buy more does not appeal to everyone as they consistently don't want to have to replenish their Although there are some cons, they can be overlooked, as this machine will change your life!
My Opinion:
     This coffee brewer is perfect for everyone. It comes with so many customization options that can be tailored to your liking. I think that for this you should purchase this, but, the many coffee recipes you can learn are also a great feature. Overall, the K-Café Smart Single-Serve Coffee Brewer is worth the investment and a helpful tool for any person wanting to brew their own coffee!