Girls Cross Country Divisions
Have you been updated on the Girls Cross Country team? Well, let me fill you in on one of the biggest races of the year! Cross Country Divisions! There is so much effort that these girls put in that should be recognized! Let's get into everything Cross Country!
How Divisions work
To make divisions, you must have under 29 minutes in the 5k sunken meadow course, which I will explain in its entirety next. Some coaches put girls into the individual race that can have a little over 29 since some teams haven't run at sunken meadow in a long time. This is Hauppauge's dog with a couple of its runners. Some girls have a little over 29 and want to get a personal record at the divisions. Only the team race matters in the sense of who gets first, second, or third. However, the times for all girls help coaches on who to select for state qualifiers, if they aren't already in it. Hauppauge is already onto the next round, having clinched a spot in State qualifiers before divisions. So, the team race for Hauppauge consists of: Senior Kelsey Hawkins, Senior Captain Alexa Dobbs, Junior Captain Reese Coughlin, Sophomore, Kiera Choinski, Freshmen Emma Tjersland, Freshmen Jules Heck, and finally after a very hard decision, Eighth grade Julie Stopanio. In the individual race, the runners consist of Freshmen Kate Marrietta, Arynna Ress, Alex Wetterhahn, Sophomore Megan Barry, Amelia Vitalie, Reagan Henselder, and Lina Cambardella. The whole team comes to support the girls running this challenging race and get out of school early for the 2 pm time slot. To win this race, you want to score the least amount of points. It is basically like golf. The best score to get is first through fifth place with no one in between. So, even if one girl gets first and the rest of the runners get near last, they don't rank well. The perfect score is 15. First place gets one point, second two, and so forth. You may be wondering why seven girls run if only five scores are accounted for, it's mainly just so teams can have someone to fall back on if the runner isn't doing as well as normal or anything like that. All in all, divisions don't make or break the Hauppauge team for making state qualifiers, which takes some pressure off their back. However, this race is still important in its entirety. You want to prove yourself and get a good place to be in all counties. Winning for your team is the goal. You don't want to let yourself or your teammates down in the team race. In the individual race, you want to prove yourself or earn a spot in the top 7, getting a better time than one of them.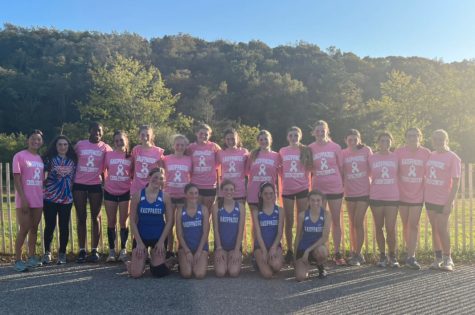 The Sunken Meadow course
The course itself isn't easy. It's 5k, 3.10 miles with two steep hills and some uneven concrete. The race starts on an open field and you run down this field for about a quarter of a mile, running past the finish line and all the loud parents cheering you on. Then you cross a short bridge into what is called the mote. The mote is dry mud that is a straight path that is a half mile, which you do twice by the way. The mote then leads you up a little incline to make a left up to the hill, snake. The way to snake looks easy, but the steady incline gets to you quickly. The uneven concrete doesn't help either. Once you can see the hill, the adrenaline kicks in. The hill is rocky like mulch that is hard to get a firm grip on when running up, if the runner isn't wearing spikes, it's easy to slide. The hill turns you to the right for about a tenth of a mile, then it's a big downhill that if you don't run fast down, you will slip. However, if you run too fast, the rocky mulch will take you down. After this hill, you take a left turn onto the picnic area, filled with parents cheering alongside the fence of the path you are running. You will also hear coaches either telling their runner to keep up with someone, or to pass a girl. The picnic area is relatively flat and just a dirty, muddy path. After running on this for a little you will hit the two mil mark when running up to the next hill. You hit a mile on a snake and mile 2 on a cardiac. Cardiac hill is said to only be 97 steps. But man, is it terrible. This hill is sandy and steep. People stand on the hill, usually, kids cheering, using cowbells or anything, and you are 2 miles already into your race. You are drained. The hill is steep, then flattens for 3 sets, then gets even steeper. The worst about this hull is that once you're up, the downhill is almost a joke. The little downhill leads you to a path that curves like you're in the forest, in the middle of nowhere. It almost feels very creepy. Then for about half a mile, you run down a secluded, sandy path. Finally, you come out into the picnic area once more, you run like you are going up back to the cardiac hill, but you take a leaf going through the mote. You go back the way you came in from. This time, it was more intense. You realize you have half of a mile left. You are contemplating when to pick up your pace and when to sprint at the end. You hear the roaring of the parents across from the water, and you can see the finish line through the motes trees and bushes. Then you get back on the bridge. Your body is about to push the last tenth of a mile to this finish line. This moment displays the endurance of a cross-country runner, seeing if they have a second wind. Runners should try and hold something in for the end to pass runners who are on empty. You sprint to the finish and rip off your tag. And just like that, the race is done. 
Preparation for the division championships
Throughout this past season, Hauppauge Girls Cross Country has been a very strong team. Having runners like Reese Coughlin, and Keira Choinski get high marks in past invitationals and races in the season. Reese got 4th place out of 128 runners at a Tom Knifling invitational race. Meanwhile, Kiera Choinski got 1st place at the Manhattan meet in the sophomore heat. This meet had thousands of participants attending. Following this, the other top 7 runners have put in the hard work to earn themselves a spot in the championship meet rather than the individual division race. The top 7 run the 5k course, which is 3.10 miles in 22 minutes max to around 20 minutes. The highest competitors in the division are East Islip, who are ranked in the states, and Comsuogue, who many runners on Hauppauge beat in invitations rather than the dual meets. In preparation for this big meet, there have been workouts pushing the girls more than ever to be the best they can be for this meet. Tempo 1,000s repeats, going down the ladder from 1,000 to 100 on the track, and 800 repeats have been some of the difficult workouts thrown at the runners, yet they push through every time. Coach Mary Nowotarski has definitely prepared the girls for this moment. Following this, other meets have been preparing these ladies for this big meet. Running the course itself at Sunken meadow for meets helped give the girls an idea of what they are coming to face on October 25th. After divisions, the work isn't over for the girls either, the top 7 best times overall, either from the individual race or the team, go to state qualifiers as a top 7. Some girls are in the individual race who weren't able to get into the top 7, but this doesn't mean they don't have a shot at being in the top 7 for state quals.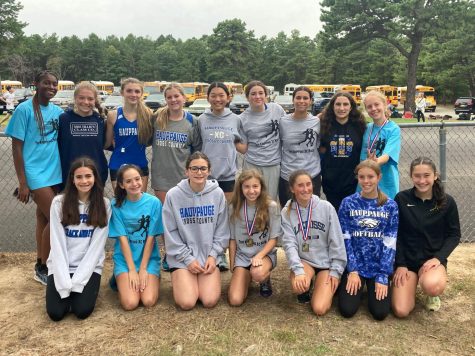 The day before race interviews:
Reese Coughlin, Junior Captain
 "I am excited to race, I am also super nervous because it is a big race…but I'm excited to run, and hopefully, we can place well as a team!"
Alexa Dobbs, Senior Captain 
"I am very excited to be running at divisions because I have been running this sport for 5 years, and it's a lot of fun with all my friends on the team. I am ready to go out and run my last race with my whole heart"
Kelsey Hawkins, Senior 
 "I'm very excited about the meet, this team is very supportive and encouraging. I know the race may be challenging but I'm looking forward to spending time with my team. I am also very proud of how far everyone has come! I will miss everyone dearly!"
Kiera Choinski, Sophomore
 "I am excited for this race not just to be running with my teammates, but to get out of school 5th through 9th period!"
Emma Tjersland, Freshman 
"I am very excited for divisions, it will be a good day!"
About the race… 
 The race was run on the hottest, more humid day of October. All of these runners were training in the cold getting ready for this meet, obviously drinking water the day before and the day of, but not enough to the point where it was going to be as hot as a summer day. The individual race was not even able to be run because all the ambulances were taken up by girls passed out from dehydration and the humid air. The ambulances were maxed out, not allowing other races to continue. Thankfully, none of the Hauppauge runners were sick or dehydrated. This race was also fortunately not their last one. They have state qualifiers this following week (the week of October 31st). The state qualifiers are a way for the girls to prove themselves going to state championships, and divisions were able to see what girl wins all county or all divisions.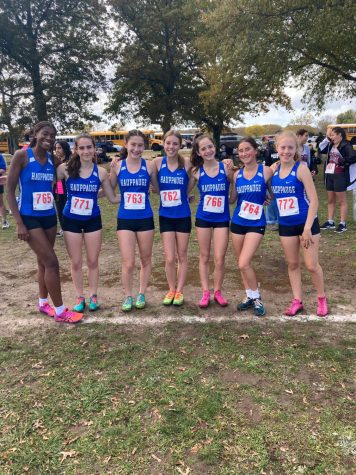 (Left to right- Kelsey Hawkins, Julie Stopanio, Reese Coughlin, Keira Choinski, Julie Heck, Alexa Dobbs and Emma Tjersland)
Hauppauge stats and performances
The Hauppauge top 7 ended up being 4th in their division. They fell behind East Islip, which is nationally ranked, Northport, and West Babylon. Hauppauge passed ESM and Comsewogue, once a big competitor for the runners. Following this, there were 3 Hauppauge girls in the top 18. Reese Coughlin, the first runner for Hauppauge got 12th place, Kiera Choinski got 14th and Juliana Heck was able to get 18th place! Unfortunately, the times are confidential and there is no way of seeing the places for the rest of the 4 girls until all county awards are given out, but the girls as mary said did phenomenally well. All the girls displayed an amazing effort in this hot, humid weather! 
Post-race feelings
Many of the feelings after that race were overall excitement for the next race, state qualifiers. The girls are as ready as ever for this next race, and they are hoping for it to be on a cooler day! Overall, the girls had a great effort earning them the 4th place spot in the very challenging division. Unfortunately, the girls who were going to run in the individual race weren't able to run, but they will be able to run on Friday, October 28th in the fun Freshman sophomore meet! The heat led to an ambulance over usage and the race was postponed to Thursday, and Coach mary doesn't want the girls running two races in a row. The top 7 still had an amazing effort and Coach Mary is proud of their race! Great job girls!
Coach Mary Nowotarski's message after the race:
"So yesterday's race was tough because of the heat and the humidity, our team actually ended up doing very well. Even though the girl's times weren't what they expected, everyone's times were much slower yesterday (divisions). But when we compare what place we got, 4th, it is amazing that we were able to beat Comseuqgfe and ESM who both beat us earlier in the season.  The teams who beat us are ranked in the state like East Islip, so I am pleased about the 4th place we earned. It was a successful day considering the circumstances, especially having 3 girls in the top 20 for our league!"