Play For Pink HGVT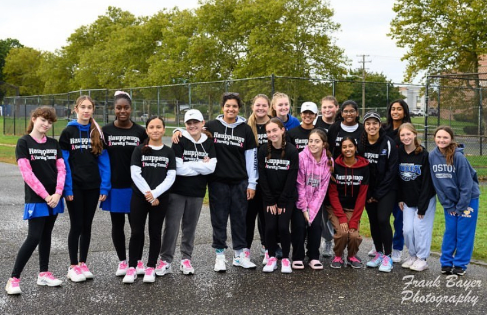 Match Day
On October 8, 2022, the Hauppauge Girls Varsity Tennis team played for pink supporting breast cancer awareness. Their match was a home match against Commack High School on Saturday, October 8th. Although the weather wasn't great, the girls didn't let the rain stop them. The community came together to help dry the courts. Parents from both schools brought leaf blowers to help the girls out! After some time, the girls were able to start their match. It was a tough challenge against Commack. Although the girls lost, they pulled through on a windy day to do their best and have a fun time all while supporting a great cause!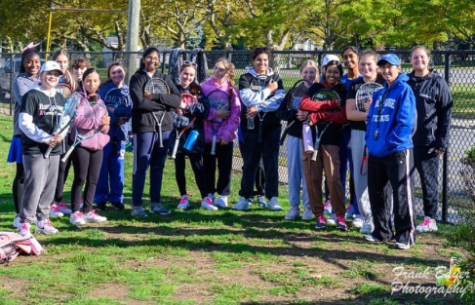 Preparations 
To prepare for the match, the girls designed a matching shirt for everyone to wear during their game as seen in the picture below. They also had many pink accessories such as sunglasses and they spent time decorating beforehand. The girls also played with pink tennis balls during their match. This match was planned to help raise awareness and is becoming a yearly tradition for the girls.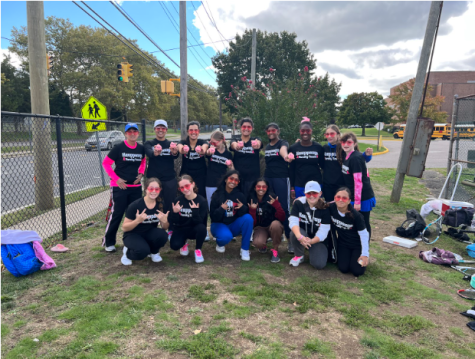 Interviews 
According to Sreeja Geevanagari, a 2nd singles player on the lineup, the courts were super slippery but she loved the collaboration from everyone in the community to help dry the courts. Sreeja feels that she played the best she could with the circumstances she was presented with. It was hard playing a match where you couldn't run as much as you usually do but both she and her opponent made a great effort. 
According to Sofia Dessart, a 3rd doubles player on the lineup, she feels that the other team really showed their support and it was a fun morning. Sofia also feels that it was a challenging match and the girls did their best. Overall Sofia says she had a great time at the match and can't wait until next year's play for the pink match! 
Overall, the girls had a great match and played well. Everyone had a lot of fun and after the match the girls all brought desserts! They were able to hang out and continue on supporting the cause. All the girls are excited about next season and can't wait to continue this great tradition!