E.l.f Halo Glow Liquid Filter
Introduction
     E.l.f Halo Glow. One of the newest products on the market. But what's so special about it? To understand this product's importance, we must understand the significance of this brand. E.l.f. The brand is an acronym for "Eyes, lips, face"  basically implying that it supplies products for almost every part of a face in an easy, affordable, and accessible way. The brand is big on conserving the environment and makes sure that all of its products are cruelty-free and vegan, which many companies fail to do.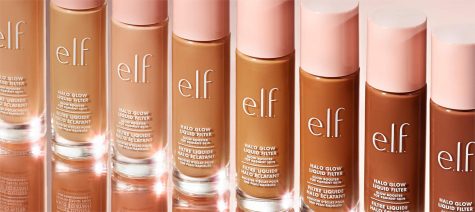 Key product features:
Being vegan and cruelty-free is just one of E.l.f. Halo Glow's features. The reason for most of its success in the beauty industry is that it is a dupe for the Charlotte Tilbury Flawless filter, which retails for about 46 USD. Halo Glow on the other hand retails for about 14 dollars USD. This impressive markdown makes people more inclined to buy it since it is offered at such a low price point.    
Benefits Associated with Use
     Some benefits associated with its use are that its enriched with Squalane which moisturizes skin, Hyaluronic Acid that hydrates skin, and Finely Milled Powders to blur lines/pores for a smoother, soft-focus look. These key ingredients make this product skincare and makeup all in one.  Another interesting characteristic of this product is that it can also be worn in 4 different ways. This includes 
Wearing it alone

Under or over makeup

Mixed with foundation

As a highlighter
These features provide a way for this product to be incorporated into everyone's daily makeup routine.
Pros and Cons
     Some cons of this product are that it is only accessible in one store or online from the E.l.f. Website. It also sold out in most shades even though it has a very small shade range, making this product very inaccessible. But some pros are that it is a perfect dupe for the Charlotte Tilbury flawless filter and comes with more products for a lower price. 
Intended target
This product's intended audience is anyone from Gen-z to senior citizens. But the most frequent buyers are people who love viral products 
Price and purchase information
The price is 14 dollars for 31.5ml and is exclusively purchased on the E.l.f online store or at Target.
Overall the Elf Halo Glow is a very worthy product for the price it comes at. This product makes you look great while helping your skin feel great too.