Aerie Leggings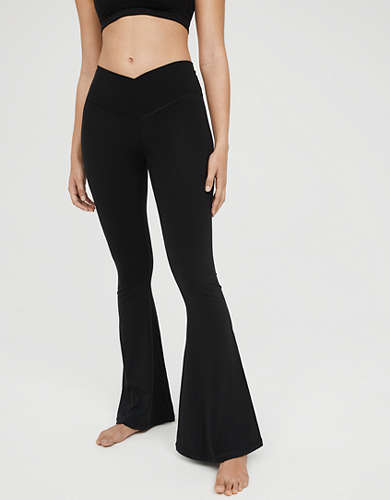 Have you been looking for a reliable and fashionable pair of leggings? You should check out the Aerie leggings! They have multiple styles, patterns, colors, and sizes. Something you might find unique about these leggings is that you can customize the sizes. You are able to buy/order them in your regular size,(extra small, small, medium, large, etc.) but you can add short or long to them. For example, you are able to buy a medium, medium short, or medium long. This is a really cool way to be sure you get your exact size! 
Styles
     The Aerie leggings come in various styles, sizes, and colors! The four categories of leggings are; Everyday Errands and Lounge, Dog Walking and Downward Dog, Cardio and Sweaty Workouts, and Hiking and Outdoor Adventures. Everyday Errands and Lounge leggings are for comfort and lounging around. Dog walking and Downward Dog leggings are perfect for moving and exercising, these leggings also have really good support. Cardio and Sweaty Workouts are good for working out. Lastly, Hiking and Outdoor Adventures leggings work great for colder weather and the outdoors. Aerie has many different styles and fits for their leggings. The four different fit types are ¾ crop, ⅞ crop, flare, and full length. They offer eight different types of fabric; Gals, OG, Real Me, Real Me Extra, Rib, Seamless, The Hugger, and Warm Up. They even have 11 different colors to choose from. These colors include White, Neutral, Gray, Black, Pink, Red, Burgundy, Green, Blue, Brown, and Orange. Along with all these amazing colors and styles, you are able to choose if you want pockets or no pockets. As you can see Aerie has a great amount of color, size, and style options! 
Price
Some might say that the Aerie leggings are a little expensive, but for the quality it is worth it. When purchasing these leggings you can get discounts and coupon codes. A regular pair of leggings costs $44.95. The flare leggings are $59.95. These leggings often go on sale, in-store and online! Right now the regular leggings are on sale for $31.46, and the flare leggings are on sale for $41.96. If you purchase them while on sale you would be saving about $13-$17, depending on which leggings you buy. Also, if you sign up to receive their emails you get 10% off from an online order. These leggings last a long time and are amazing quality. 
Pros vs. Cons
When looking at the Aerie leggings some might say that they are too overpriced. But, in comparison to other leggings they are either a little bit more expensive or about the same price. If you are thinking about purchasing these leggings there aren't many cons to factor in! A cool thing these leggings have to offer is the ability to pick the support level, fabric weight, and material. If you are looking to buy a pair of leggings that have light support, lightweight fabric, and are a buttery smooth material you might want to look into the OFFLINE Real Me high-waisted Ruched leggings here. But, if you want a pair of leggings that have medium support and are made to move you should look at the OFFLINE Real Me XTRA hold-up leggings here. 
These leggings have so many different styles, colors, sizes, and customizable options available!