Why You Should Get the Dyson Airwrap!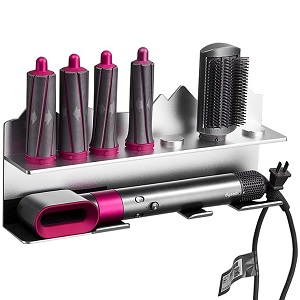 Wondering about the Dyson Airwrap? Thinking of buying it, but not sure yet? Read this on and to learn all about it!
What is it? 
The Dyson Airwrap is an advanced hair styling tool that has many different features that allow you to do multiple hairstyles, with barely any effort. There are eight attachments but depending on which model you buy that number can vary. Different attachments each have their own dynamic and high-tech designs, in order to make styling your hair easier than ever. These new designs help to make your hair less frizzy and more voluminous. You can curl it, straighten it, or even give yourself a blowout. 
What's Unique?
     One really unique thing about the Dyson Airwrap is that they have a super cool feature that allows you to style and hide all your flyaways using the "Coanda Effect". Another great feature that the Dyson has, is that they don't use
extreme heat! This is something that is crucial when it comes to healthy hair. Using minimum to no heat is the best, but in this case, you can get an amazing hairstyle without damaging your hair. With all these unique and special effects, it makes the dyson air wrap stand out from all the other hair products

Pros:
Is a multipurpose tool that can get two jobs done in one step! Instead of having to dry your hair and then styling it, just do it all at once. The Dyson Airwrap is designed to dry and style your hair at the same time! Saving you time and effort. 

Comes with many different attachments to give a variety of hair tools for multiple purposes such as; rough drying, curling, straightening, smoothing, and volumizing. 

6 to 8 attachments depending on which model you buy. 

You can buy the whole set or even smaller variations made for different hair types.

Great for ALL hair types.

Works great on dry, wet, or damp hair.
Cons:
Not going to give the perfect "neatness" of a hair straightener, because it is meant for volume.

Price – 500 dollars. More expensive than usual hair styling products.

If you have naturally wavy or curly hair, it may not get rid of all the curls.
The Dyson Airwrap can be bought at local stores such as Ulta, Sephora, and Bed Bath and Beyond. Or even online sites like Amazon! Or you can go straight to the source and buy it on the Dyson website! Dyson Website Link