Bluetooth Water Bottle Review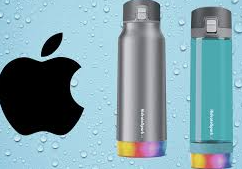 Hidrate Spark Pro Smart Water Bottle 
    The Hidrate Spark Pro water bottle is a smart water bottle that can connect to your phone via Bluetooth. It is a stainless steel water bottle that comes in many different colors with a glowing "puck" bottom. It also has assorted size and lid options to choose from. 
Features and Benefits
This smart water bottle comes with a free app, called HidrateSpark, that helps you to create your own personal hydration goal and will let you track your water intake throughout the day. Using the app you can customize the glow colors and frequency. This can be a helpful reminder to stay hydrated! Lastly, the app can help you track your bottle in case it gets lost. You can locate your bottle from wherever it was last synced to the app. The Hidrate Spark Pro water bottle comes with many benefits as well! This water bottle will keep your drinks cold for 24 hours as it is vacuum sealed! Another benefit of this item is that it has an easy reminder to keep you on track with your hydration. Being reminded throughout the day by the glowing colored lights on the bottom of the water bottle is a great way to make sure that you are drinking enough water. One last benefit of the Hidrate Spark Pro water bottle is that the battery holds its charge for 10-14 days with regular use. This means that you are able to use the water bottle for up to two weeks without having to charge it. 
Pros and Cons
     The Hidrate Spark Pro has many pros to its model. When drinking out of the bottle, the bottom measures how much liquid is left and then transfers this data into your phone. This is a helpful way for you to track your water intake. Another pro is that it is compatible with both IOS and most Android, devices making it easy to connect your water bottle to whatever device you have available. Lastly, when you order, you are able to choose/design how you want your bottle. Picking from different colors, sizes, and lids. Although this water bottle has many pros, there are also some cons to consider before buying.
Such as the price.
    It costs $64.99 – $69.99 depending on which model you choose. You can purchase it from Amazon. This can be pretty expensive for a water bottle so you should consider if the benefits outweigh the price. Another con is that this water bottle is not meant for hot liquids. It is only to be used for cold beverages. One last disadvantage is that the bottle body is not dishwasher safe. The puck bottom is not to be submerged in water and has to be removed each time you wash the bottle.
     I think that this product is very useful and could be a great way to help you stay hydrated. It is intended for all ages and can be used by all!