CeraVe Forming Facial Cleanser Review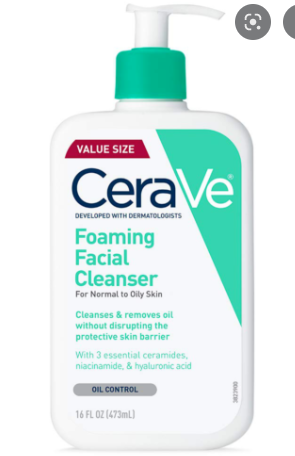 CeraVe foaming facial cleanser is a fragrance-free cleanser that does not dry out your skin and can clean your face very well. I highly recommend buying this product It worked for me pretty decent but it's different for everyone.
Key product features Ceva Ve has
Removes excess oils, dirt, and makeup from your skin

Forms when mixed with water so it is soft and smooth on your skin 

People with oily skin most of the time use this product

Comes in carry-on sizes and big bottles, so you can bring it if you go on vacation and will know it will fit in your suitcase.
Benefits
      Developed by dermatologists, Cera Ve can help your skin get all the bacteria and dirt. If you have bad acne, it helps wash that bacteria out from your face to get rid of all that. It also has Hyaluronic Acid to help your skin's moisture, as well as Niacinamide Acid to help calm any redness that is formed on your skin.
Pros and Cons 
Pros –
Helps your skin clear up acne
Helps wash away dirt on your skin
Won't clog pores
Washes oils out of the skin
Cons –
Can sometimes irritate your skin 
Can be bad for sensitive skin 
Niacinamide and Hyaluronic Acid can cause redness on sensitive skin, so check the bottle before purchasing. 
Intended target
To help your skin be clean and washed off of oils, dirt, and makeup from your face and keep your face fresh and clean throughout the day and also can hydrate your skin too.
Pricing 
     The listed prices at various locations are $16.99, $15.99, $4.59, $13.99, $9.85. Located at Amazon, Ulta Beauty, Target, Cvs Pharmacy, Online site called Care to Beauty. The smallest size is 3 oz and only $4.97. It's so small it fits right in the palm of your hand.