One Night in Miami… By Ella Utano
One Night in Miami…, Released in 2020, is directed by Regina King and depicts, for a lack of better words, a single night in Miami and the gathering of legends Malcolm X, Jim Brown, Muhammad Ali and Sam Cooke. They discuss their responsibility and the roles that they play in the Civil Rights Movement, and how each of their platforms are very different yet similar. The movie discusses goals, successes, failures, empowerment, and justice. Many topics are covered, with the film's main idea revolving around society and the systemic racism within it. The movie was phenomenally produced and crafted; it succeeds on every level and goes above and beyond on all scales.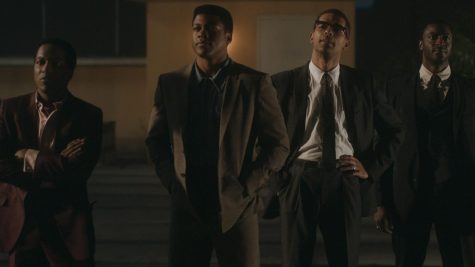 The performances delivered by actors Kingsley Ben-Adir, Leslie Odom Jr., Eli Goree, and Aldis Hodge were incredible. The chemistry between the four of them was extremely noticeable and helped audiences feel, to an extent, like they were in the room. Goree's impression and portrayal of Muhammad Ali was very well done, and many who watched the film approved of his portrayal in particular. The way each actor delivered their lines was compelling and had the audience waiting on the edge of their seats to hear what the others would say next. There was a lot of quick-witted banter which was equally as enjoyable.
The soundtrack, mostly provided by Odom, was a key feature in the film as well. Nominated for a Grammy Award, the soundtrack predominantly covers Sam Cooke's music. The finale puts emphasis on the creation and meaning behind, "A Change is Gonna Come." Emotion is emphasized throughout the music and Odom's covers certainly did Cooke justice.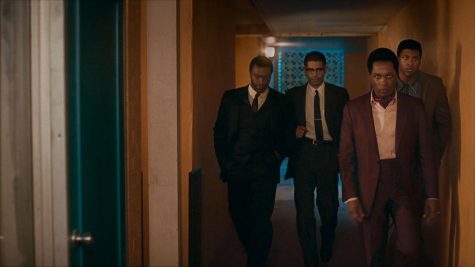 The cinematography is also incredible. The movie was visually pleasing to watch, and I often found myself enjoying the color palettes and the emphasis put on crimson, beige, cyan, orange, and brown. It mixed with the fashion and costumes of the era, and the matching color palette pinned down the aesthetic aspect of the movie. Its set design was equally as pleasing, and it followed the same color palette as well. The props on set also looked extremely realistic.
The emotions of the audience that came with the finale isn't exactly an emotion I can pin down. Growing up a huge fan of Cooke, I guess you could say I was starstruck; it was really nice seeing a well-portrayed version of Cooke on television. The ending scenes and the delivery of "A Change is Gonna Come" made me shed a few tears. The movie puts emphasis on four different perspectives, which continue throughout the film. These perspectives help the audience understand and appreciate the efforts of these four men during the Civil Rights Movement.
By: Ella Utano