What Else Can Disney Do? By Sarah Beggins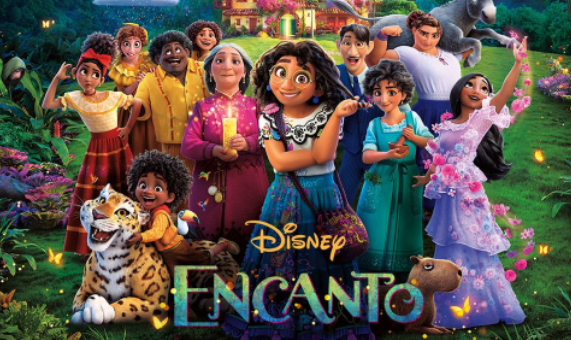 Encanto stormed theaters on November 24, 2021 and was a stunning film filled with  a magical and good feeling.       Encanto reminds viewers of family and self love, with dazzling picture and a stick in your head soundtrack.
It follows the story of a young girl surrounded by love and a magic family.We soon find out that Mirabel, who is the main character, is only Madrigal without powers. She realizes her family's powers are dying, and she wants to do something to make her family proud. She finds her lost tío Bruno, and she heads on a journey to save her family's gifts. 

The story line is well-written and doesn't leave you confused in the slightest. The best part though, hands down, is all of the characters and watching their unique magical powers being brought to life on the screen, my favorite character is Luisa. She's such a different character to have in a Disney movie, it's so out of the ordinary, yet such a beautiful movie.
Lin Manuel Miranda is the man behind the music and choreography for this new beautiful Disney creation. Previously working on his world renowned production of Hamilton, he took on the role of writing for Disney. His style of music is like no other and that's what brings this wonderful feel-good movie to life. The underlying themes of Encanto will have you wondering what the real motif is. 
This Movie has amazing  rating summaries showing a 4.4 star rating out of 5 with more than 6452 reviews. Overall Encanto is a super viewing experience.
By Sarah Beggins