How is Selena Gomez Impacting the World Right Now?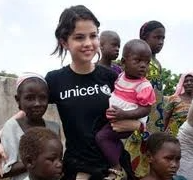 About Selena Gomez 
Selena Gomez was born on July 22, 1992, in Texas. She made her first appearance on a show called 'Barney and Friends.' In 2007, she was cast as the lead for the hit Disney Channel TV show, Wizards of Waverly Place, and in 2009 she released the pop album Kiss & Tell. From there on she had a few smaller projects and continued to appear in movies and TV shows. Selena continued to consistently produce music and became a huge success in the music industry. She produced many albums throughout her career and still does to this day. She also played a huge role in the world as an activist. 
The Rare Impact Fund 
Selena Gomez is the founder of 'The Rare Impact Fund.' The Fund is a fiscally sponsored project of the Hopewell Fund. The goal of this fund is to raise 100 million dollars over the next 10 years to help give people access to mental health services. On Selena Gomez's website she gets personal with her fans and tells them her personal experience with Mental Health. Selena Gomez states, "Mental health is personal for me. Figuring out how to manage my own mental health hasn't always been easy, but it's something I am constantly working on and I hope I can help others work on, too." The Rare Impact Fund is part of Rare Beauty's commitment to give people the access to the resources they need to support their mental health. Rare Beauty donates 1% of all sales to the Rare Impact Fund and they raise additional funds with philanthropic foundations, corporate partners, and individuals in the community to increase access to mental health services in educational settings like schools. 
UNICEF
UNICEF stands for 'United Nations International Children's Emergency Fund.' Selena Gomez has been a part of this fund for over 10 years, she began working with them back in 2009. "She started as a "trick or treat UNICEF" nation's spokesperson in 2010, helping raise $4 million. In 2011, Gomez took part in UNICEF's 12 Days for UNICEF." Selena has always believed in advocacy and she has always tried to help out with charity as best as possible. The charity concerts that she's put on to support the organization have raised over $200,000, helping UNICEF provide lifesaving therapeutic foods, clean water, medicines, immunizations and education to children worldwide. Selena has played a huge role in advocating for the world's most vulnerable children by participating in numerous campaigns, events, and initiatives on behalf of the 'UNICEF USA.'
Battle with Lupus
Selena Gomez revealed that she underwent a kidney transplant as a result of struggling with Lupus. She revealed to the world in 2015 that she was battling this disease. She decided to take a break from her career, along with making music, she was dealing with a lot of anxiety and depression from her disease. This caused her mental health to struggle greatly, but it also led to her 'Rare Impact Fund.' So, instead of struggling and doing nothing about it, she created a way to support others who have or had gone through the same thing as her.