The Truth About Dynasty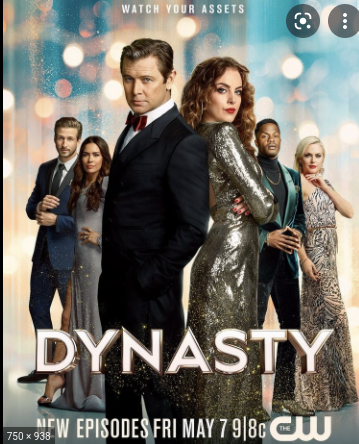 Dynasty's Plot 
Dynasty is a Netflix show that came out on October 11, 2017, and new seasons are still coming out. It has 5 seasons. It recently came out with its fifth season this year. The cast consists of Elizabeth Gillies as Fallon Carrington, Grant Show as Blake Carrington, Rafael De la Fuente as Sam Flores, Robert Christopher as Michael Culhane, Alan Dale as Joseph Anders, Sam Adegoke as Jeff Colby, Adam Huber as Liam Ridley, Sam underwood as Adam Carrington, Maddison Brown as Kirby Anders and Daniella Alonso as Cristal Carrington. There are many other side characters but these are the main ones throughout the show. Dynasty begins with heiress Fallon Carrington unhappy to find her billionaire father Blake engaged to Cristal, a rival employee at the family company.
When Fallon finds out that her father isn't given her the CEO position she gets furious and confused on why she isn't the one who acquired that position which creates an enemy relationship between Fallon and her step-mother Cristal.  Fallon enlists Michael and Cristal to help her turn the tables on the Colbys, and she manages to neutralize Jeff and secure a percentage of his company. She learns that Jeff Colby was just playing around with her in order for Jeff to destroy the Carrington family that makes Fallon create a plan that makes Jeff lose all the percentages he had of his company and they go right back to Fallon. The carrington has always had a rivalry between the colby family ut blake carrington always had a secret that no one knew about the colbys and carringtons eventually in season 2 it is revealed that blake's father had an affair with jeff colby's grandmother and the grandmother and blake's father had a daughter and that was jeff colby's mother which made the colbys also carringtons.  And a series of things keep going on in the season but it still goes on about the status and rivalry of the Carrington's. 
Script
The script and the plot are also great, every time you end an episode it always leaves you on a cliffhanger which makes you want to keep watching. And that's great for the show since every time an episode ends the audience has the urge to keep watching to see what happens next. There are many plot twists in the show that you can't even imagine that make it very entertaining. As the show goes on there are many sad scenes but there's scenes that make you laugh so much which makes it a great show because it has a diversity of reactions. 
Main Actors
The actors all have good roles in the show. Elizabeth Gillies is an amazing actor, she plays her role as she has always been portrayed which brings the character, Fallon Carrington, to life. Most of the scenes she is in are played perfectly by her. The expressions are top tier and you can really see the passion she has. Grant show is also a great actor and Blake Carrington really suits him. Grant Show portrays Blake really well, everything including the temper that he is known for is spot on in the acting. The other characters also make the show come together, in my opinion, the best characters and actors have to be Fallon Carrington and Sam Flores. 
Personal Opinion
My personal opinion of the show is that it is a great show. It's very entertaining. It has so many plot twists that make you want to watch the entire show in one day. Fallon Carrington is my favorite character because she is portrayed so well that in some things i can identify with her. The show keeps on going which means it had good reviews and publicity. I would totally recommend this show to everyone.