Stranger Things, Should You Watch it?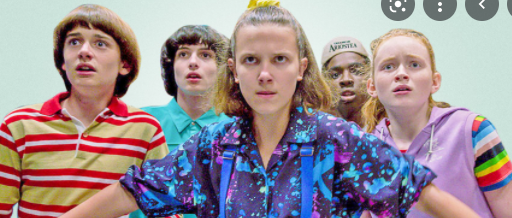 Summary
     The show Stranger Things takes place in Hawkins Indiana and it revolves around a group of teenagers and a semi-superhero. They are trying to locate their friend, Will, who mysteriously goes missing one night on a bike ride home. The group of teenagers discover the "Upside Down" which leads them to their friend. Once Will arrives home, everything is not so normal. He is being possessed by something called the "Mind Flayer" and experiencing horrible visions. Thankfully he is alongside a team of friends, family, and a cop who are all trying their best to help him. 
Script
     The script is very well written and consists of a huge vocabulary.  It is entertaining and super funny. The script has many emotional and heartfelt scenes in it and the actors perform them so well.  The script also has funny jokes and sayings. The script is written so well and there is never a boring part, there is always something happening which makes you want to keep watching.
Acting
     The acting in the show is also unbelievable, it is some of the best acting I've ever witnessed and it is extremely interesting to watch. Many of the actors and actresses, like Millie Bobby Brown, Noah Schnapp, Finn Wolfhard, and many more are young teenagers who have only a little acting experience. But they still make it look like they have been doing it their whole life. 
Personal Opinion
     My personal opinion on the show is I think it is amazing and I would definitely recommend it to teenagers and young adults who love adventures, thrillers, and comedies. It has a super interesting storyline and instantly pulls you in, once you start watching it you can't stop. I loved watching it and can't wait for a new season!