Long Island Adventure Park
     People often look back at the childhood joy of climbing trees; thinking you were so much higher up than you were, imagining tarzan-jumping from tree to tree, then subsequently trying and failing to tarzan-jump to another tree and breaking your arm. You know, the good old days. Wouldn't it be wonderful to live out these childhood fantasies without the unnecessary risk? Well, there is an exciting opportunity to do so at Long Island Adventure Park, where climbing trees is their specialty.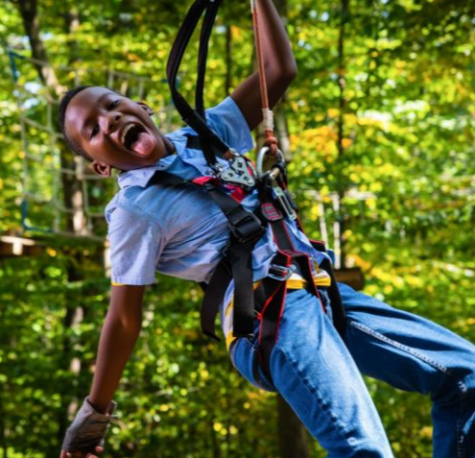 Long Island Adventure Park is located at 75 Spring Road, Wheatley Heights, and the actual "adventures" take place in an impressive forest that's just a short walk from the main gate. When you arrive at this forest, you'll quickly notice something irregular about the trees. Rather than being towers of unreachable branches and unknowable heights, the trees are equipped with ropes, ladders, tight ropes, ziplines, monkey bars, and a number of obstacles to climb. 
     This may sound frightening to some more acrophobic readers, but rest assured the activities and escapades are perfectly safe. Before starting their adventure, climbers are equipped with a multi-functional harness suited for different types of aerial trails; i.e. one harness clip is specifically for zip lines, another type for tightropes, a third for bridges, etc. These special ¨safety clips" are all attached to the climber's harness, so there's never a risk of losing, dropping, or forgetting one. The clips are color-coded. When you arrive at an obstacle, you will notice an area marker. This marker's color corresponds with one of the clips on your harness, so you always know which one to use. Every precaution is taken to make sure there are no repeats of childhood mishaps.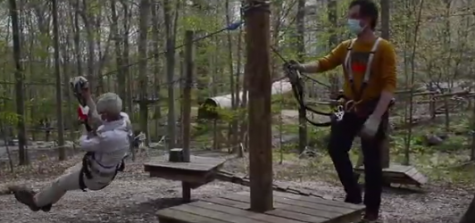 However, everyone knows that in modern times, falling from a tree is the least of our health concerns. Luckily, Long Island Adventure Park has taken many affective precautions against COVID-19. Being an outdoor activity gives the park an automatic lead on safety; there is plenty of space for adventurers to explore. Though it may seem unhygienic to use the same harness as previous participants, they are thoroughly sanitized after every use, along with the ropes and other equipment used. Additionally, the Adventure Park recommends wearing protective gloves to prevent rope burn when climbing, but to be as safe as possible, they have stopped their "community" glove program. However, gloves can be purchased at the Adventure Park Store upon arrival. And of course, all staff members and customers are expected and required to wear masks while in the park; no exceptions.
     After heaving exhausted our entertainment options over the past year, it's nice to know that there are still fun things to do while preventing the spread of COVID. It's important for us to remember that there is still "an outside" after so much time working from home, so maybe planning your Adventure Park journey will give your family the perfect thing to look forward to. The spring season starts March 26th, so buy your tickets now on the park website, and prepare to start your adventure.