Johnny Depp Vs. Amber Heard Trial
   On April Eleventh, twenty-twenty two, the Pirates of the Caribbean star, Johnny Depp sued his ex-wife, actress Amber Heard for fifty million dollars based on claims of domestic abuse.  Johnny Depp who has been acting since nineteen eighty-four, claims the "Aquaman" actress was extremely abusive during their relationship. She filed false abuse claims against him in twenty-sixteen, virtually destroying his lucrative acting career. Disney and Warner brothers both dropped Depp shortly after these allegations were published, despite there being little factual evidence against Depp. Johnny Depp fought for the trial to be broadcasted for his fans because he wants to share his story as a male victim of domestic violence/abuse.
Claims and Evidence 
Heard claims that on multiple occasions he was both verbally and physically violent towards her during their relationship. She claims that he had bruised her by throwing a phone at her face, and injured her nose in a fight. Depp denies these claims entirely and instead claims that Heard was the abusive one in the relationship. Their therapist testified that the relationship was "mutually abusive" but, Heard was the only one initiating physical altercations with Depp. Depp often tried to remove himself from situations but Heard persisted.
Johnny Depp claims that Amber Heard severed his finger, hit him in the face, threw bottles at him, extinguished a cigarette on his face, made false accusations against him, withheld his medication, and more. Depp's doctors and nurses testified that his finger had been severed by a bottle thrown by Heard, and that a cigarette had been extinguished on his face. 
An audio recording of an altercation between Heard and Depp was played in court. In this recording, Amber can be heard yelling at Depp, mocking and belittling him. She told him to take his case to the judges and the court, and tell them "I, Johnny Depp, a man, I too am a victim of domestic violence," believing that nobody would take him "seriously" because he is a man. In the same recording Heard unknowingly admits to hitting Depp.  Heard states, "I didn't punch you… I was hitting you, it was not punching you. You did not get punched, you got hit…You're such a baby, grow the f** up, Johnny." This was a major component of evidence due to the fact that she essentially admitted to abusing Johnny, confirming his claims against her. Heard also chose to use videos she took in secret from when they were together as evidence. These videos were of Depp slamming cabinets and throwing things in their kitchen, yelling at Heard, and showing details of how severe his depression was during their relationship. Why she has these videos in the first place is a troubling question because someone in a healthy relationship would not be filming these incidents instead of helping their significant other. These videos, although originally were evidence against Depp, helped show how truly unhealthy their relationship was. A recording of Johnny Depp's "headbutt" towards Heard was shown to the court. Although t witnesses testified that it was an accidental headbutt, and Depp was attempting to restrain Heard for his own safety.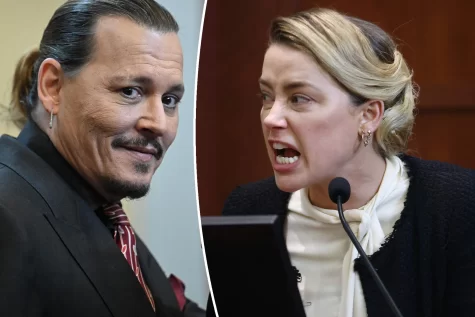 Heard used Johnny's struggle with substance abuse as evidence, but Depp has stated that he was never out of control. Depp's struggle with opioid addiction began when he was injured on the set of the fourth Pirates of the Caribbean movie. He eventually decided to get off the opioid, as it was beginning to control his life. While he was detoxing from the opioid, Heard was supposed to give him small doses in order to ease him off of the highly addictive drug. Depp claims she withheld this medicine from him when he needed it claiming, "It wasn't time yet." Depp stated that he attempted to explain to Amber that it "Wasn't about time and clocks and things," yet she still withheld his medication. Depp's alcohol abuse was also a hot subject during the trial. However, he stated that, "The only person upset with my drinking problem is me. The only person I've ever abused is myself." Depp stated that it was the lowest he had ever felt, having to ask his wife to give him his medicine, and she still refused.  After he was sober from the opioid, Johnny swore to never take it again, even when his finger was severed he didn't take the opioid again. Johnny's sobriety and lack thereof, was a very big topic in the courtroom. Amber's lawyers questioned Johnny on his drug use and sobriety very in-depth. However, they neglected to mention that Heard was also partaking in drug use while Depp was attempting to get sober. 
Questioning
Johnny Depp took the stand and spoke about his dysfunctional childhood. He dealt with various issues such as abuse from his mother, his father leaving him at a young age, and his mother's overdose. He was questioned on how this childhood affected his relationship with Heard and his children. Depp stated that he swore from the age of fifteen to never be like his mother, who was extremely abusive. Some of Depp's ex-girlfriends, including Winona Ryder, testified that Depp was never abusive at any point in their relationships, even at the worst of his drug use he was a gentleman. Johnny's sister testified that she heard Heard make rude remarks about Depp's appearance. She stated that Miss Heard called Depp "An old, fat man." 
Upon being questioned about Heard's claims of abuse, Depp claimed that she faked a broken nose and bruises with nail polish and makeup. Amber's lawyer claimed that a makeup pallet Heard carried was used to cover her bruises during the 'abuse'. A Tiktok however revealed to the court that the pallet was produced in twenty seventeen, and Heard was claiming this abuse occurred in twenty sixteen. This development entirely shook the courtroom, as now a very large lie was revealed, furthering Depp's points against Heard and her team. 
Celebrity Support
Many celebrities have vocalized their support for Johnny Depp and their disdain for Amber Heard. These celebrities include Jason Momoa, Robert Downey Junior, Paul Bettany, Winona Ryder, Orlando Bloom, and many many more. Heard has significantly less support, with Amanda de Cadenet, James Franco, and Elon Musk. 
Elon Musk is an ex of Heard and paid for her lawyer as well. This topic came up in the courtroom when Heard's lawyer accused Depp of being obsessed with Elon Musk. This came up when Depp accused the billionaire of having an affair with the actress while they were still married. James Franco was one of the first people to encourage Amber Heard to go after Johnny Depp. Franco may not be the best person to be supporting Heard, as he has a mountain of allegations against himself as well. Depp also accused Franco of having an affair with Heard, but that has not been confirmed nor denied. 
This is just the surface of this case. Evidence continues to be revealed in the court as the weeks go on. Amber Heard and her team continue to fight against Depp. This is an important story for people to know about. Depp wanted this trial to be publicized so he could share his story as a male victim of domestic abuse, something you don't hear much about in the media today.