"Hauppauge Stands With Ukraine"

"Hauppauge Stands With Ukraine"
     We've heard the phrase, we understand the meaning, but can we grasp the impact of the actions? Hauppauge's own Gabrielle Catanzaro, a 16-year-old sophomore, started a district-wide donation drive to gather supplies and clothing for the suffering citizens of Ukraine. Across the 5 schools in the district, Gabrielle collected 100s of donations, to the point that the local churches she worked through could not keep up with the shipping. Hauppauge may stand with Ukraine, but Catanzaro stands up for it.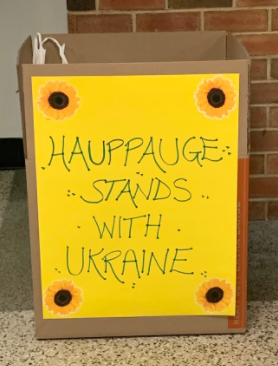 Gabrielle's mission began very simply. Her mother, Lisa Catanzaro, heard through her work at the Suffolk County Executive's office about local church groups that were in contact with their counterparts in Ukraine and were making efforts to send them money and supplies. She mentioned this to her daughter in conversation, who instantly wanted to help. Gabrielle became instantly interested. Catanzaro explained her first action; "Me and my Mom decorated boxes and we placed a big box, just from Home Depot, in each school and in the district office buildings." These boxes were decorated with the colors of the Ukrainian flag and Ukraine's national flower, the sunflower. The collection bins were instant hits, each one having to be cleared out at least once a day, sometimes more, to make room for new donations. Catanzaro published a list of items to donate for that are necessary for life in a bomb shelter or hunkering in place. "I'd say the most necessary items off the whole flyer are just the basic toiletries that they don't necessarily have, and gloves and thermal items because it's like 1 degree there. I would say that gloves and scarves and first aid kits are definitely the most important." Due to the long distance and shipping time, no food items were collected, even non-perishables. 
     Although Gabrielle was in contact with several Ukrainian churches and charitable organizations, she didn't have much help on the home front, handling most of the collection and transportation on her own. "School-wise? I'm working independently." Shipments are made from Long Island to Ukraine via cargo ships and other delivery boats. Catanzaro also mentioned that "churches are collecting monetary donations that will be sent over through the mail." When shipments reach Ukraine, the trucks and cars of the sister churches collect the donations. They are sorted and distributed to the needy people in their area; those who are currently homeless, jobless, cannot safely buy supplies on their own, or "near the ongoing violence" as Gabrielle puts it. These people, unfortunately, make up a large portion of the current Ukrainian population.
     The donations face many trials on the way to their recipients. COVID-19 has caused a global delivery lag, especially in Eastern Europe. "All the ships are full, obviously, just with basic everyday stuff, so it's definitely going to take a bit to get them [the donations] over there," Catanzaro said.  It is also difficult for Ukrainians to collect and distribute donations while maintaining social distancing and/or wearing protective gear. Ukrainian soldiers have formed blockades on major roads to prevent Russians from entering, and Russians have destroyed Ukrainian bridges and tunnels, making travel extremely difficult. There is no assurance that anyone traveling even a slightly long distance will not be caught in the crossfire of a shelling or bombing. In spite of this, Catanzaro assures "The Suffolk County Executive [Steve Bellone] used the same [transport] method, so I would say that there's a pretty big guarantee." These life-saving supplies from a small district are crossing oceans and battlefields to help the people of Ukraine.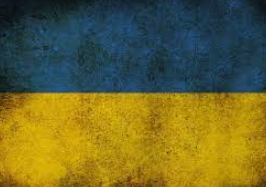 The "Hauppauge Stands With Ukraine" movement has been wildly successful, collecting hundreds of dollars worth of donations in just over a week. Gabrielle says she was "just watching the news every day." "Obviously it's kind of depressing to see innocent people having to deal with all of these horrific events going on, for no reason."  She, like all of us, was most upset by the attacks on civilians. Seeing people who aren't soldiers and aren't in government, people who have no power over what happens to their country, being slaughtered in a pointless and petty war. Her goal was simple: "Collect as much stuff as I could." She definitely did so. "You should see my garage," she joked, "It's full and full with these bags. The ongoing support from the Hauppauge Community has been insane. Everyone just helped out in any way they could. I know that I collected a lot, so I'm really excited for that." The fundraiser was supposed to go on for two and a half weeks, beginning March 3rd and ending March 19th. However, in just six days, so many donations were collected that the church groups had to ask Catanzaro's drive specifically to bring in fewer items because they were too overwhelmed, asking her to focus on monetary donations. Catanzaro organized this entire program by herself, with only occasional help from her supportive mother. She is certainly one of the strongest and most generous students in the district.